How to get a hundred reviews in one week
I won't pretend that getting book reviews is easy - but it's an integral step that can't be skipped. You may need to work for your reviews. You can either:
A) Build a big targeted email list or
B) Put review copies on sites that have readers (here are a few).

Don't beg for reviews.
Thank everyone for the reviews you DO have, and then set a public goal.

If the book isn't launched yet, set up a simple form they can fill out right away - then email them back when the book is live and ask them to repost it on Amazon.
If the book is on preorder, set up a print version also - publish it, but then upload new files and don't approve them. The book will show as unavailable, but readers will still be able to review the paperback copy (which will show up on the ebook page as well).
Make sure you're sending people to the clean link on Amazon that ends in the ASIN number (not the full url, which shows your personal information - Amazon will delete reviews from people you've had interactions with).
Amazon also refuses reviews from people who haven't spent at least $50 already. If someone can't post, ask them for the review and you can add it into the editorial reviews section (which you can claim on Author Central).
You can also use some joint author book promotions, data scrapping services (which pull contact info from reviewers of similar books on Amazon), put a book on Instafreebie, etc - to try and build a targeted email list of ideal readers (who read book sin your genre). Then send them a free book, and remind them to review it if they can.
You don't want to nag people too much, but you can at least
send a free book
ask them if they got it (double checking)
asking if they liked it (and please post a review)
final check-in, reminding them how awesome it would be if they can post a short review before X (because you're running a promotion or something).
Don't forget, they are doing you a huge favor.
Don't expect or demand a book review just because someone downloaded a copy of your book. Maybe they didn't have time to read it. Maybe they didn't like it.
Focus on sending out more free copies to more people who enjoy your type of book. Get them on your list if you can. Remind them to review.

VERIFIED REVIEWS

Personally I don't think verified reviews matter much. Most readers don't care/notice if a review is verified. However, verified reviews will probably show up first (on the first page) and so those reviews are important.

BUT: at least right now, it seems that downloaded free books also show up as verified. I tested it on a permafree book I've never sold - all the reviews show up as verified. So it seems like it would be easy to start with a permafree book or free promo, give away lots of books to readers, and get more verified reviews.
The alternative would be giving out ARC copies early via BookFunnel, but if they posted reviews on Amazon they wouldn't show as verified... UNLESS you also launch with free days, get the reviewers to download with that link before they post their reviews.


TWITTER OR FACEBOOK
I'm not usually a fan of sending private DMs, or posting on other people's Facebook feed, but this Tweet was well done: tagged my Twitter handle and referred specifically to a book I'd reviewed.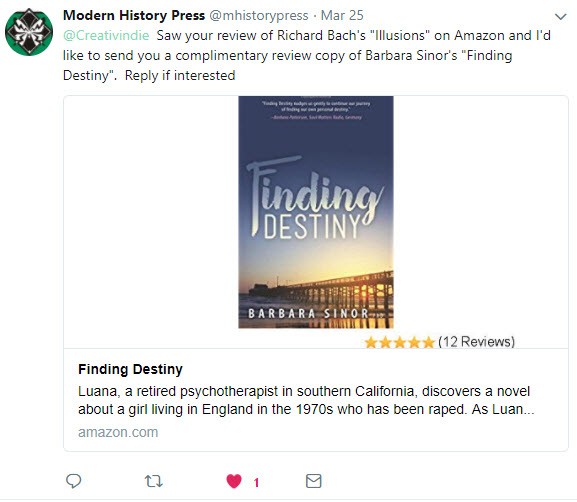 I've gotten Facebook requests to like or follow some page "since you're into reading stories." That was too intrusive and general (why did they reach out to ME specifically - or are they messaging that to everybody?)


Here's another email someone sent me recently for a book review.
It worked because it gave enough detail, proved credibility/experience, and mentioned a mutual friend (they could have also pointed out that I'm personally interested in the topic of cowriting, and blogged about it a few times).


Dear Mr. Murphy,
I hope all is well, I'm Rhett Bruno, USA Today Bestselling author of the Titanborn Series (Random House Hydra), The Circuit Trilogy (Diversion Books) and the Buried Goddess Saga (Upcoming Audible Studios), represented by Evan Gregory of the Ethen Ellenberg Agency. I'm also the founder of the popular promotion / author cross promotion platforms Sci-fi/Fantasy Bridge.
Me and my co-author for the Buried Goddess Saga, Steve Beaulieu writing as Jaime Castle, have written a non-fiction book about the art of successfully co-writing titled TWO AUTHORS, ONE BOOK. The release date is 4/16/2018, and we're wondering if yous might have any interest in featuring us on your site or to your list around that time, or something to that effect. My good friend Chris Fox recommended I reach out to you after reading and enjoying what we had to say.
A little bit about us. We've been co-writing for a year. Since then we've finished 3 full novels over 100k words each, as well as worked together on numerous short stories and anthologies. We have a science fiction Series titled The Luna Missile Crisis that is under submission to Tor and other top publishers in the world. And we have also published book 1 in the Buried Goddess Saga, which was then picked up by Audible Studios in a 5-figure per book deal. The sequels are do out alongside them this summer. We were also able to jointly secure representation from a top agent for my work, and me and Steve's joint work.
Basically, it's been a very fruitful arrangement so far, and we have become very close friends even thought he's a pastor from Texas and I'm an architect from New York. The book talks about strategies we've used and seen to co-write in a way that maintains quality, and avoids friction. I would be happy to send over an e-arc in any format if you are interested.
Amazon link: https://www.amazon.com/Two-Authors-One-Book-Murder-Free-ebook/dp/B07BMKLKC4