Build your list quickly. Turn them into superfans.
This course will help you get your first 1000 subscribers quickly - even before you launch your first book - and turn them from passive subscribers to active supporters. I'm including all the powerful list building strategies I've used to get over 100,000 subscribers, and also the best email automation and autoresponder sequences to "warm them up" so that they're engaged and ready to buy from you.
But that's not good enough...
To get the results I want, I've needed to use two different giveaway apps: first I use KingSumo, which is best for viral sharing and getting email signups ($198 for lifetime access). Then I use Gleam for smaller giveaways for more engagement on specific tasks - following me on social media, sharing my post, etc. ($390/year).
That's over $500, and most authors can't spend that much just on giveaway apps - don't forget you still need to buy the actual prizes! So I decided to make my own giveaway app for authors. It doesn't do everything. I built it to be cheap, simple and effective. But if you use it the right way, it's extremely powerful.



Introducing...


Bookfetti is a new giveaway app for authors that looks beautiful and boosts conversions by adding extra features, like video backgrounds, one-click Facebook connection, and a timer countdown.
You can check out a sample giveaway HERE or HERE or HERE.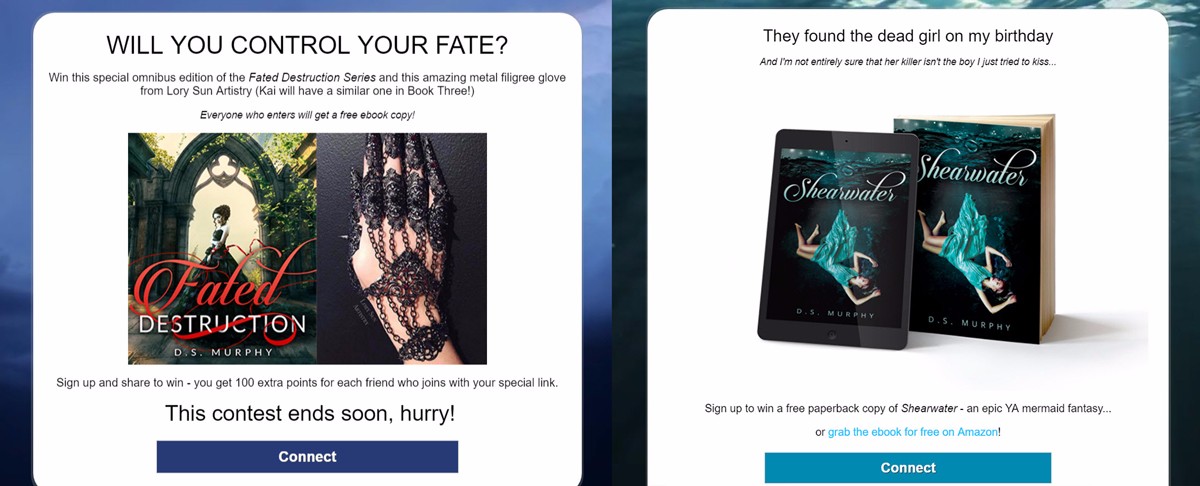 I'm bundling it with this course, so you'll get lifetime access to a giveaway app and listbuilding strategy you can use over and over again for epic results!



Why it's awesome...
★ Bookfetti is hosted on its own domain, so you don't need to install anything
★ You can use Facebook connect OR an optinbox that connects with your service
★ Life time access, unlimited giveaways
I may start using this app just for optin landing pages, because I think the 1-click Facebook connect feature will significantly boost optin rates.


You'll also learn...
★ 7 foolproof list-building strategies you can use for any project
★ How to build a huge list before you launch your first book
★ How to engage freebie-seekers and turn them into real fans
★ How to convince your list to actually buy from you
★ My epic book launch strategy for hitting #1 and staying there
★ Design templates for graphics to make your giveaway attractive
★ Exactly what to offer for your optin bribe (dozens of specific examples)
★ Cheatsheet and swipe files you can use for your own autoresponders
★ How to encourage your list to leave dozens of positive reviews
★ How to use your list to boost your website traffic
★ How much should you email and what to say (with specific timelines)
★ UPDATE: GDPR rules and regulations to make sure your giveaways and lists are 100% compliant with the new email marketing laws! (coming soon)

Email marketing can definitely be an important asset to your business (usually your #1 resource) but only if you're growing it quickly, generating new leads on autopilot, and putting them through a sales funnel that gets them to know, like and trust you.


FREE video training
Here's the full course curriculum - I've made a few of the best videos 100% free for you (over two hours of my best email marketing tips). You'll learn the basics, as well as the best email service provider. If you write nonfiction or are interested in running an online business, make sure you watch the presentation on my nonfiction book funnel for lead generation.