SPECIAL OFFER: This course is now available as a special bonus offer for 91% off.
Join today and Reach Your Readers!
★ Get your book to market faster, without the headache
★ Look like a bestselling author and eliminate the guesswork
★ Avoid amateur book design mistakes that will make your book look unprofessional
★ Save money by formatting and designing your own books
★ Create stunning graphics for online promotion
★ Learn how to build an author platform that runs on autopilot
★ Build a following of loyal readers
★ Keep your book selling long term without spending all day marketing

ARE YOU READY TO...
REACH YOUR READERS ★ GET MORE REVIEWS ★ STOP WORKING SO HARD
FINALLY MAKE A LIVING
WITH YOUR WRITING
I got over 200 reviews, reached #1 on Amazon with a million page reads, encouraged 7500 fans to sign up on my email list, and earned $2500 from book sales in 90 days... without spamming Twitter or Facebook.


IT WASN'T ALWAYS THIS EASY.
I self-published my first book about 15 years ago, in the pioneer days of self-publishing. I did everything wrong. I spent a hundred hours designing my first cover (which was terrible). I sent out hundreds of review requests (which mostly went unanswered). Truth be told, my first book was pretty crappy. I revised, learned design and formatting, stepped up my publishing game and relaunched. I did better this time; some major publications reviewed it and I even sold foreign rights to Russia's biggest publisher for $4000. Not bad for a self-published author. But it was a lot of stress and work, and of course, once I stopped promoting it, sales plummeted.

That's when I started helping other authors. First as an editor, then as a cover designer. I finally got the hang of blogging - there were crickets for the first couple years, but now I get almost 5000 unique visitors a day. I also figured out stuff like marketing, SEO, traffic, conversion. I needed to, because I was running a business. I needed to be found, and then I needed clients to trust me enough to hire me. I started putting out shorter books on Amazon to generate leads and grow my platform. One of those was Book Marketing is Dead, which has sold over 10,000 copies. After several years of learning, conferences, coaching and training I built my book design business to six-figures, and did the same with a book editing company.
But it was frustrating watching my clients invest money in a book, and then have no idea what to do with it. It pains me to see a book I designed up on Amazon with less than ten reviews and an abysmal sales rank. And I hate seeing indie authors struggle with the enormity of the challenge they're up against - all those new platforms and apps and tools and websites and resources. There's so much to do, and nothing seems to work, and authors don't know where to begin.
When I ask new authors to share their biggest challenges, I always hear the same frustrations around book marketing:
"Putting together a marketing strategy is a challenge because I don't have a strategy."
"Maintaining visibility and sales (consistently) after launch is hard without spending tons of money on promotional sites."
"Marketing is my hardest challenge because I'm not sure how to build my email list."
"Biggest challenge so far has been marketing. I'm not as tech savvy as I'd like to be, all the peripherals have been a nightmare!"
"Marketing is probably the biggest challenge because of the time involved."
"Being heard above the white noise. I spend a ton of time marketing and feel like I'm spinning my wheels to reach readers… I feel like I'm missing a huge component of the puzzle and can't seem to figure out where to put my marketing efforts so they make a difference."
The stuff most authors consider "book marketing" doesn't work at all, and authors don't know what's wrong or how to fix it. Sometimes they are doing exactly what everyone tells them to do, but it just isn't working for them.
That's always an indicator of a fundamentally broken author platform: usually it's a problem with the book cover, the description, and not having enough reviews (or more likely, all three). Without fixing those core issues, book marketing doesn't work.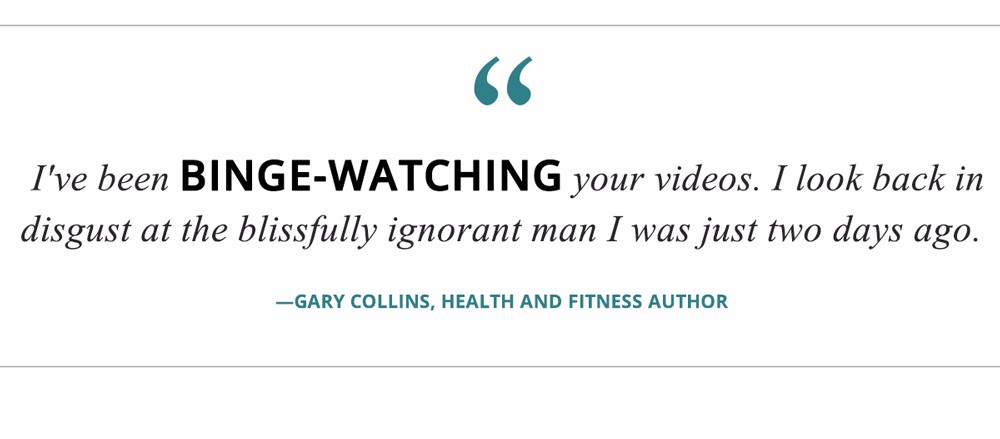 But even if authors have done everything right and actually have a strong product and are putting it in front of the right readers, it still probably won't work. That's because they're pitching to strangers. Selling anything to strangers or "cold traffic" is very difficult to pull off. Almost everyone is going to ignore you. And that's because you're being that annoying person who introduces yourself and then jumps into a sales pitch.
Most authors think "marketing" means reaching out to strangers and telling them about your book.They feel instinctively that they're being sleazy.
AND THEY ARE.
They think they need more confidence so they can just keep doing it anyway.
THEY DON'T!
Real marketing, or at least effective marketing, is about building relationships and providing value. These are some of the ideas I played with in Book Marketing is Dead and Write Format Publish Promote.
BUT SINCE THEN I'VE
FOUND A BETTER WAY...
Attract the right readers to you naturally & build a system that sells your books on autopilot... so you can get back to writing.
It's easier, faster, and it's the only thing that actually works.
Relationships can help you have a great launch, but after your network has been tapped out, if you aren't continuously putting your book in front of new readers, nobody is going to see it. It's actually really easy to become an Amazon bestseller. I see people post on Facebook all the time post that they're #1 in their category. It's exciting, and I love to get that orange #1 Best Seller sticker too, but it's hard to maintain. Keeping your Amazon sales ranking high is important for visibility - so new readers can find you.
Fiction authors sometimes say that this platform building stuff doesn't work for fiction; that they can't blog because they have nothing to write about; that common "book marketing" tips really only work for non-fiction. But the truth is, marketing fiction is actually easier than non-fiction, because so few authors are actually doing ANY effective marketing (as opposed to non-fiction authors, who usually know a bit more about SEO and publicity).
When I finished my first fiction at the end of 2015, I knew it would be more successful if I built a following first. And I didn't want to spend years growing: I wanted to start with a bang and earn money right away, so I could continue to write full time. But how do you build a community of fans before you've published? First I built an email list of 7,500 readers in my genre by giving away bestselling books, and using targeted Facebook ads to reach them. I also used those giveaways to build relationships with the authors of those books. Then I started sending out samples of my writing to that list. By the time my first book was launched, I already had a large audience, which made it easy to get over 100 reviews in the first month. I repeated the process with three more books, testing and tweaking each time.
In three months, these are my results:
Over 200 reviews

Over 10,000 readers on my email list

2452 likes on my Facebook page

Over a million page reads in KU

Over $1500/month in book sales.
Those aren't fantastic results, but for a new author with zero following, things are going well. I also get 250 visits a day to the new site I set up for fiction. And this is just the beginning - these were actually half books, the first installments of four different series. I'm not bragging, I have friends who are selling thousands of copies a day and doing no marketing. It happens. But if you aren't seeing those kinds of results, your author platform is probably non-existent (which means, you have no way to reach your readers so you have to beg or borrow other people's platforms).
You can either rely on luck, and hope for the best, or you can take action and build a reader funnel that brings readers to you and turns them into loyal fans.
I built this course to help you REACH YOUR READERS with a strong author platform that converts
In it I share all the strategies, tools and resources I used to build a profitable author platform from scratch and get real results quickly. While there are lots of other book marketing courses out there, I doubt you'll find one as in-depth and detailed.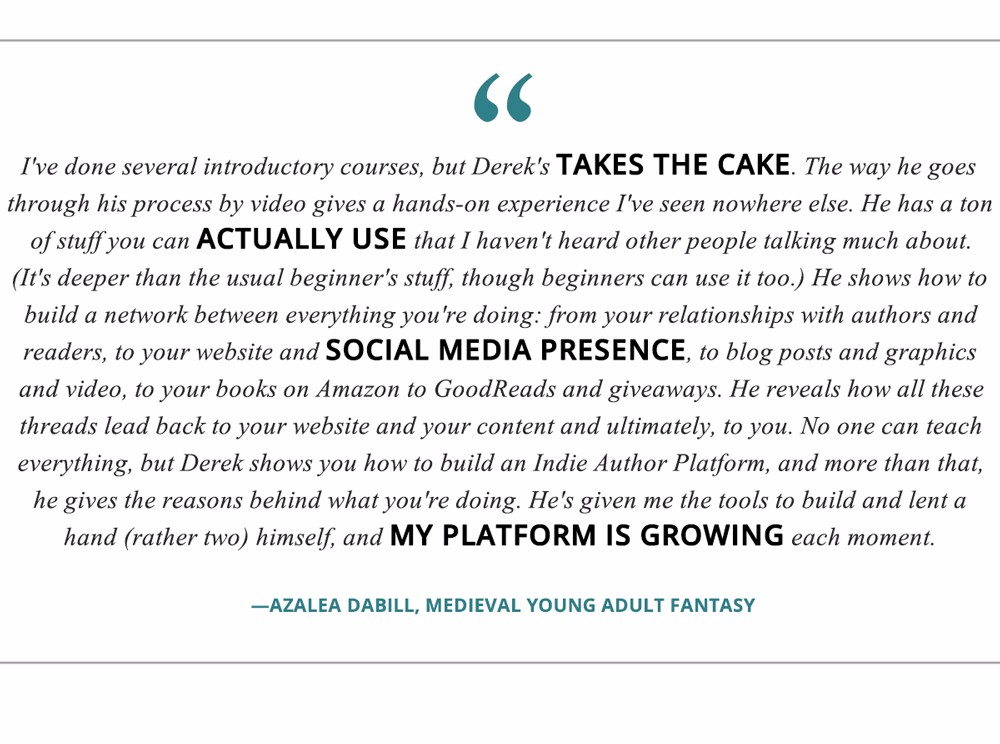 WHAT WILL YOU LEARN?
Reach your Readers is about setting up an automated system and producing smart content that will attract your readers and get shared, so you can stop spamming your book on social media (you shouldn't really do that, anyway). This is a crash course on setting up an author platform that sells, including how to make a sales page for your book, set up your mailing list (and get a bunch of optins quickly), build an author website, get long-term traffic, get more book reviews, maximize your Amazon conversion to keep your page rank high, marketing and advertising strategies, the right way to use social media, and much more.
It's a master class and coaching system designed to take you by the hand and teach you the principles and strategies needed to build a powerful and profitable author platform. If you're a first time author, you're learn to build buzz before your launch and do everything right the first time around. If you're a seasoned author with multiple books out, a few small tweaks could make a big impact on your earnings.

Although it's my first full course, the materials I've put out over the last few years have helped thousands of authors, and earned me a solid reputation in the indie publishing community.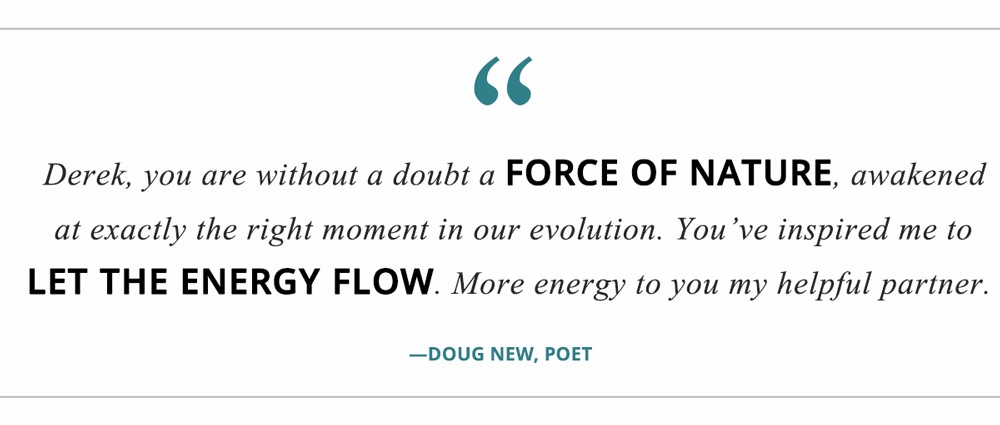 We're going to focus on these things:
Improving professionalism and credibility
Getting people to know, like and trust you
Making an online platform that gets traffic and keeps it
Presenting your books in a way that makes people want to buy them
Testing your sales funnels so you can plug holes
Boosting sales and traffic with content marketing
Getting more book reviews
Facebook advertising
How to sell books without being sleazy.
Using social media (without wasting time)
Using Author Central, Createspace and KDP
Running giveaways to build a big list quickly
Building relationships with authors in your genre
How to get free press and media attention
Building powerful communities that support you
Using incentives and bonuses for an epic launch
Publishing more books, more quickly
Making a living without sacrificing your principles


You will leave this masterclass with:
An author platform that sells your books on autopilot
An autoresponder sequence that turns readers into fans
A huge list of blog articles you can use to bring your readers to you
Brilliant optin offer ideas you can use to get more signups
More book sales and more reviews
More followers on Twitter and Facebook
WHO IS THIS COURSE FOR?
Authors who are tired of selling less than a dozen copies a month, sick of promoting on social media, frustrated by the lack of reviews or how difficult it is to be taken seriously. Writers who want to publish a book but have no idea how to launch a book successfully and reach fans. This course will also do wonders for authors who are already selling but haven't been growing their list, or want to take their career and earnings to the next level.
What's in the course?
> Video training on the bestselling STRATEGY I've used to help dozens of authors reach their first 1K/month in book sales.
> A list of common book marketing mistakes and how do to better than 99% of the other authors in your genre or field.
> Tech training on setting up all of the backend stuff for Mailchimp, Leadpages and Wordpress (not required, if you want to use something else...)
> PLUS a personal review of your current platform with feedback and quick tips for maximum impact (pro level only).



3 COURSES FOR THE PRICE OF 1
REACH YOUR READERS includes everything you need to build a strong author platform, step-by-step. It's probably more in-depth and detailed than anything else you've seen. And that's the problem. I started building this course a year ago when I was still uncomfortable on camera, and also before I'd published any fiction. I finished it recently, and while I know the content is crucial and necessary - this stuff is actually what you must do to build a successful author platform, and it will work for any genre - I'm also aware that it's rough. I tend to go off on tangents or bounce around on my screen. The material is good, but I can present it better.
So I'm making another course, that will be shorter, faster, and more expensive. But it'll get straight to the point. It's called The 21 Day Bestselling Author Platform, and it'll help you build an author platform in just 3 weeks. And since I've learned so much in just the last few months, I'm starting another course on Guerrilla Publishing, about some of the most unique and powerful guerrilla marketing techniques that nobody else is talking about yet, stuff I've been using to get a ton of free visibility. I know that sounds tempting, but you're probably not ready for that yet. Remember, all the marketing and visibility in the world won't help if your core offer isn't converting (if you get traffic to your website and nobody buys your book or signs up to your list, what's the point?)
When I finish those courses, I'll launch them separately. I still wanted to offer you THIS course, because it covers essential stuff about building an author platform you really need to know if you want to be successful. But since this course and the 21 Day Bestselling Author Platform course are similar, and I don't want you to have to choose between them, here's the deal: if you buy this course, I'll give you the other two courses for free, when they're available. You get grandfathered in.

While I'm working on those two new courses, and they will be awesome, this is the one I have right now, and there's enough content in this one to dramatically revolutionize your author platform.
PRICING OPTIONS
The basic level of Reach Your Readers, which I'm calling The Tenacious Shrub, will cost $199, but is $149 if you buy now. I could have charged much more, but I wanted it to be affordable to most authors. And my friends think I'm crazy for giving away two future courses for free, but I want to make sure you get everything you could ever need to be successful, and reward you for being an early adopter. The 21 Day Bestselling Author Platform Course will cost $299 at the lowest level, and the course on Guerrilla Publishing will cost $199.
So you get $199 + $149 + $299—a $647 value—for just the price of this course: $149.
Buy in at the $149 level and get lifetime access to all the marketing tips and training videos in three separate courses—over 100 hours of video. Just a few of the genius marketing hacks I'll be sharing in the Guerrilla Publishing course would make this worth it. Instead of buying a course for $149, you can think of it as pre-ordering the 21 Day Author Platform course for half off, and getting 2 additional courses for free.
To sweeten the deal, if you sign up early instead of waiting until the last minute, I'm adding two more bonuses only for the first 24 hours: all the templates from DIY Book Covers ($87) and DIY Formatting Templates ($47). These professionally designed templates will save dozens of frustrating hours and help you produce a great looking book; even better, the tutorial videos will help you understand basic book design principles so you can DIY your design without making common, amateur mistakes that kill sales.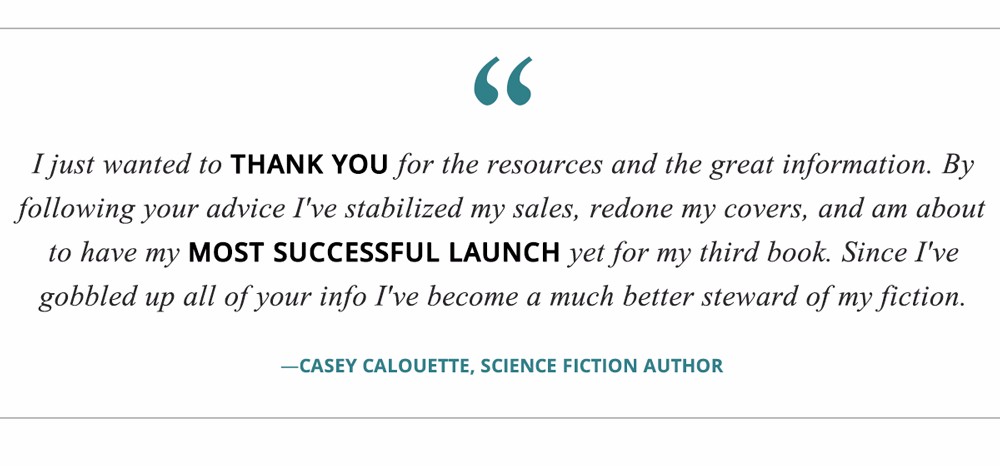 With the DIY bonuses you save another $134... so if you get the course for $149, it's like you're only paying $15 for three courses. But that's only for those who sign up for a package in the first 24 hours. (If you miss out, don't worry, you're getting a good deal even without those bonuses).
WHAT IF YOU NEED MORE HELP?
I actually started making courses because I'm moving away from client work and don't have time to work with authors 1-on-1 anymore. BUT, four people have asked me this week if they can hire me as a publishing coach or if I'm still doing consulting.
And I understand why… even if you understand everything in theory, you still don't have the experience to just "see" what's wrong with your author platform and fix it. You can do it yourself, but your efforts could be doing more harm than good, and you might not be able to figure out what's wrong by yourself. So I'm adding an option for people who want more personalized feedback, and I'm going to try something out I've been wanting to test, which is unlimited book marketing advice for 1 month.
You'll still be expected to watch all the videos first and attempt to do things on your own, but you can email me any time, or ask for feedback in the private Facebook group. I'll also do a personalized author platform critique video, telling you exactly what to do to improve your platform, help you edit and revise your sales description (which is critical), clean up your Amazon page, and show you where to get powerful backlinks to boost your SEO. I'm calling this level the Sturdy Oak, and it comes with a month of unlimited book marketing advice for $449.
That's less than what I usually charge for a
one-hour consultation.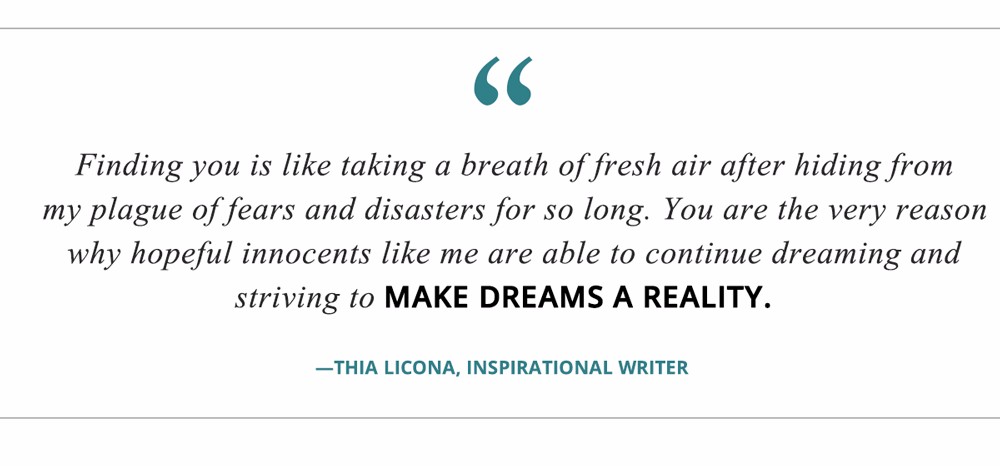 I'm a little worried about offering so much of my time, but I know how valuable it is to get personal feedback and fast answers. If you want to ensure you get everything right, save a lot of time and hassle, get lifetime access to all the materials, and join a private community of bestselling authors for support and guidance, this is for you. If you already have several books out, the Sturdy Oak may help you double or triple sales.
Committing to this level also makes it more likely you'll go through the steps and do the work, because you'll know you only have full access to me for one month - so you need to take action and get it done!
I find having the extra attention and looming deadline helps authors take action and actually implement. Without a "one month only" deadline, many authors will take notes and have ideas but never get around to putting things together. This level gets you full access to the material, the Facebook group, but also my inbox: you can send me emails or direct messages on Facebook with questions any time for one month. I can share resources, brainstorm ideas, give you critical feedback on what you've put together, and offer a personalized marketing strategy. I won't actually step in and do the work for you (if you desperately need a new cover design or author website, I can recommend some options) but I will be there to help you build up your author platform and encourage you to finish it. With my help, you'll get it done, so you can go back to writing, secure in the knowledge that your author platform is constantly growing and working for you.
And finally, I made a "done-for-you" option.
I know some of you are frustrated and overwhelmed, and you don't want to spend months learning how to build all of this stuff and get it working, or are afraid of setting up the technical tools and resources wrong and making your platform less effective. A strong marketing funnels has a whole bunch of moving parts and will probably need some html coding. Not to mention, having a website or book cover with sloppy, amateurish design can cripple your efforts.
So I added a third option, in case you just want someone to do it all for you. I'll basically do everything for you that I do for my own books, fix everything that needs fixing, and help you redesign and rebrand if necessary. I'll set up your offers, run giveaways to attract ideal readers, and use targeted Facebook ads to reach them. I won't quit until you have your first 1000 followers and hit #1 in your category (guaranteed).
If I was charging for all the individual services, this would cost at least $6449. So I'm wary about even offering this one, and I doubt I'll do something like it again. If you have lots of books, or run a small press or publishing company, letting me help you improve your platform could mean a huge boost in sales.
If you really love my work and want to work with me... this is the only way you can, since I don't take on 1-on-1 clients anymore.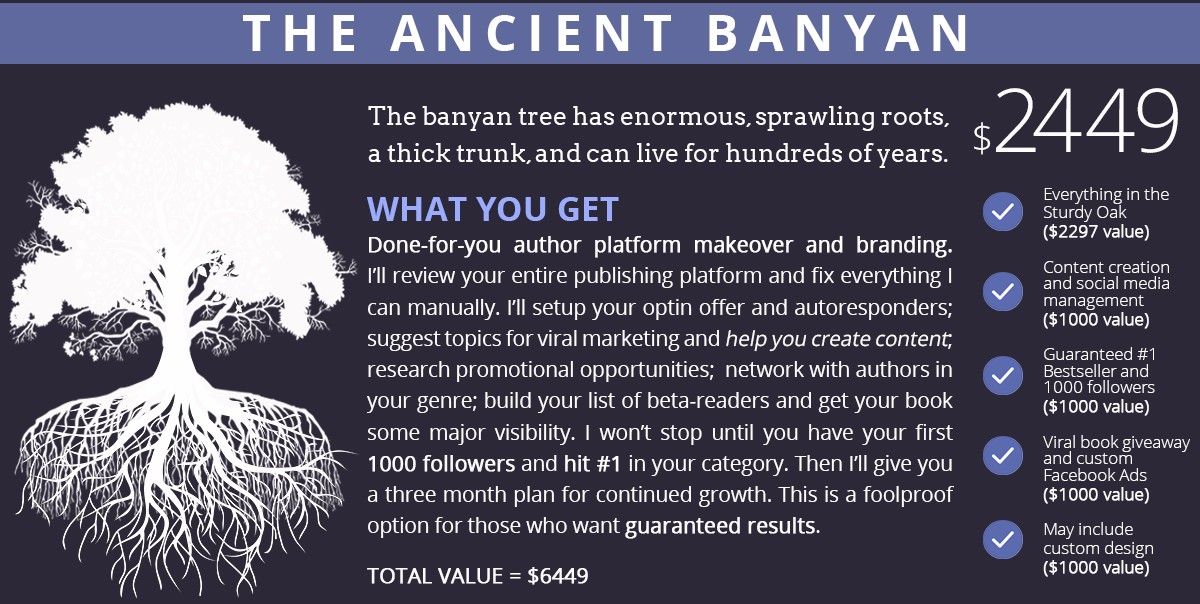 Someone asked if it's really me doing the work, since I haven't been doing covers for almost a year. YES. Just me, though if launch goes well I'll hire a couple writers I know who can help write content and grow your social media accounts. But I'll manage everything personally. Also, the "unlimited book marketing" deal will last for 3 months for the Banyan - since we might spend that much time planning a relaunch. Also please understand the Ancient Banyan doesn't include setting up a new website or designing covers from scratch. You should already have the basics done, I'll just fix them and make sure they work. Most of the money will go directly into advertising. If you're starting with absolutely nothing and need a site built, bookcovers, formatting, editing and everything else, I can set up a custom author platform from scratch and a total publishing package for the cost of two Banyans ($4898). Just order one for now and we can discuss the rest once I get started.
Finally, you should know that I've set some limitations. I'm only one person so there's a limit to how many people I can help at the same time, and I want to make sure everybody who joins feels heard, supported and taken care of. So during this launch I only have enough space for...
50 Shrubs | 35 Oaks | 15 Banyans
Those are my personal launch goals, but they're also the maximum limitation - I just can't accept any more than that. When those spaces sell out (and they may, because I'm sending this offer out to over 25,000 people), then you're out of luck. There will be future chances to enroll in these courses, but they will never be this cheap again, and I probably won't do this kind of personalized coaching/service again, I'll be too focused on my own books.
By the way, it's fine to buy now and save your "month of unlimited book marketing advice" till later, maybe during your next book launch. I'll be available to work with you whenever you have time to focus on building your platform.
What you don't get
I'll be recommending a lot of the tools and resources I use - but they're not all free. I've also learned that the best and easiest-to-use tools, are usually the most expensive. I'll always give you options, and you can set everything up cheaply if you want, but making it look nice and professional will take more design and coding knowledge, whereas the expensive options are pretty easy to set up and look amazing.
Also, I won't be taking over the design (although I really, really want to - I just can't make everybody free cover designs, I don't have time). So if your cover is the problem and I recommend you get a new one, that's probably the #1 thing you're going to have to do, but I can recommend a whole bunch of places you can get a cheap and decent cover.
This program teaches you how to publish like a professional, be your own publicist and marketer, control your platform and ensure long term sales (without needing to be constantly marketing. The point is to do it once, "set it and forget it.")