Tired of trying to promote your books and seeing no results?
Now you can QUICKLY build a targeted email list of your ideal readers, learn how to ENGAGE them and turn them into raving fans.
It took me a year to get my first thousand email subscribers.
These days, I can easily get 1000 subscribers in less than a day for a new project, and my main list is usually around 50K (I have to cut about 10K subscribers a month because my lists grow too quickly!).
I know a lot of authors have trouble building their platform and building an email list, because that's the #1 thing they ask me about. So I decided to make a course about it. I'm including all the powerful list building strategies I've used to get over 50,000 subscribers, and also the best email automation and autoresponder sequences to "warm them up" so that they're engaged and ready to buy from you.
But that's not good enough...
To get the results I want, I've needed to use two different giveaway apps: first I use KingSumo, which is best for viral sharing and getting email signups ($198 for lifetime access). Then I use Gleam for smaller giveaways for more engagement on specific tasks - following me on social media, sharing my post, etc. ($390/year).
That's over $500, and most authors can't spend that much just on giveaway apps - don't forget you still need to buy the actual prizes! So I decided to make my own giveaway app for authors. It doesn't do everything. I built it to be cheap, simple and effective. But if you use it the right way, it's extremely powerful.

Introducing...

Bookfetti is a new giveaway app for authors that looks beautiful and boosts conversions by adding extra features, like video backgrounds, one-click Facebook connection, and a timer countdown.
You can check out a sample giveaway HERE or HERE or HERE.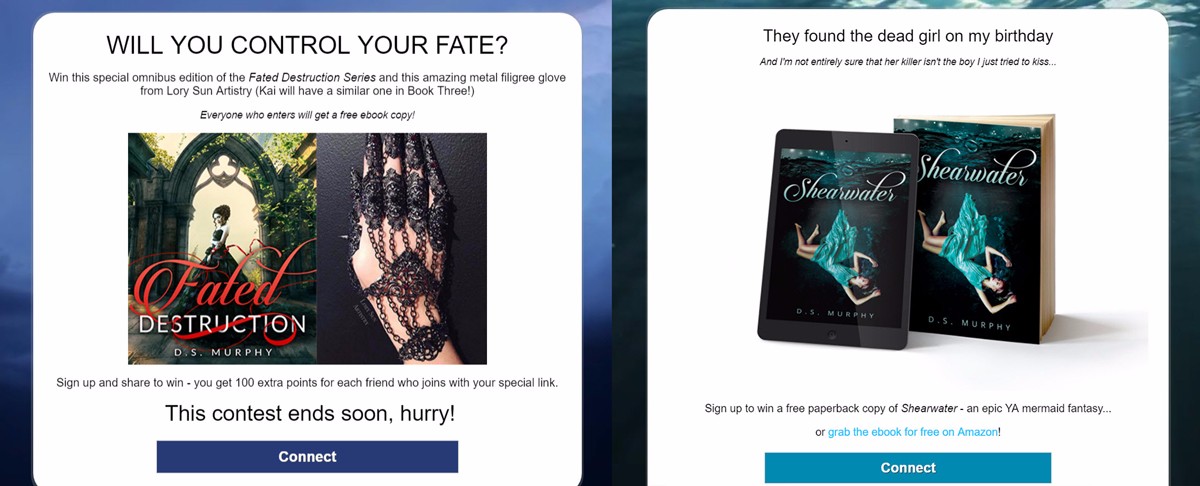 I'm bundling it with this course, so you'll get lifetime access to a giveaway app and listbuilding strategy you can use over and over again for epic results!


Features and benefits
Bookfetti is hosted on its own domain, so you don't need to install anything
You can use Facebook connect OR an optinbox that connects with your service (all major ones except ConvertKit right now - however I recommend you use the Facebook connect and export your csv file anyway).
Life time access, unlimited giveaways
You'll also learn...
Email marketing can definitely be an important asset to your business (usually your #1 asset) but only if you're growing it quickly, generating new leads on autopilot, and putting them through a sales funnel that gets them to know, like and trust you.



Re-Launch Special!
I'm finally planning on finishing this course (December, 2017) and I've decided to include a copy of KingSumo giveaways on one of my sites, so you can try it out in addition to the BookFetti app. I'm also excited about the course modules themselves, which will include some ready-made scripts you can use for your autoresponder sequence to boost engage and build a supportive relationship with your fanbase.


I'm only offering 50 coupons for this deal, so if the link doesn't work, they've sold out already. Once the course and software is finished, the price will go up. (It's not finished yet, so if you do get in early, you won't see anything in the course material - I've already mapped it out so you can see the curriculum, but I haven't made the content and videos yet.)
I expect to have everything ready to roll by the end of 2017 (that's when it will go up to full price).
Thanks,
Derek Murphy